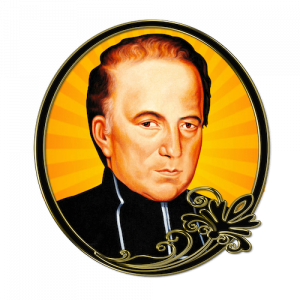 Fr. Peter Mermier (1790 – 1862)
Peter Marie Mermier was born on 28 August 1790 at Vouray in the parish of Chaumont en Genevois, in Savoy. The French Revolution had badly affected the Church in Savoy and many priests left the country while a few went in hiding. Peter's parents, who were fervent Christians, risked their lives and property by welcoming the priests. Between the age of four and ten Peter had the rare privilege of assisting at the Mass celebrated secretly in the house. The faith and courage of his mother and of those daring priests motivated him to make a decisive choice for the Lord.
The revolutionaries had closed Churches and Schools. So Peter Mermier had his primary education by his own mother. Peace returned to Savoy in 1800. He did his secondary school studies as a boarder in Melan. In 1807 he was received at the major Seminary of Chambery. He was fervent at prayer, a hard worker and with thoughtful regard for his fellow students. He was ordained priest on 21 March 1813 at the age of twenty-three and a half. His first appointment was at Magland as Assistant Parish Priest to Canon Desjacques. As a young priest he was a tireless worker. He taught the little ones by day and continued his theological studies by night. After three years he was asked to teach at the college of Melan and be Prefect of Discipline. The Archbishop of Chambery appointed him Parish Priest of Le Chaterlard in 1819, at the age of thirty.
Fr. Peter Marie Mermier was an austere priest of unbounded zeal. But most of the people were indifferent to Catholic Faith and practices due to the influence of Jansenism, Gallicanism and French Revolution. With a view to enliven the people in true faith he contacted Joseph-Marie Favre who gave missions in the diocese of Chambery with great success. They met in 1821 and it was very significant for Fr. Mermier as he fell in love with the apostolate of Parish Mission. In the same year, they, with the help of a few diocesan priests, dedicated themselves exclusively for this task. They went from parish to parish staying from 4 to 6 weeks in each parish. They prayed, preached and motivated the people to build up their faith. It was a wonderful opportunity for solid religious instruction and reconciliation.